Privacy Policy
This Privacy Policy describes how your personal information is collected, used, and shared when you visit or make a purchase from Powerfuelbites.com (the "Site").

PERSONAL INFORMATION WE COLLECT
When you visit the Site, we automatically collect certain information about your device, including information about your web browser, IP address, time zone, and some of the cookies that are installed on your device. Additionally, as you browse the Site, we collect information about the individual web pages or products that you view, what websites or search terms referred you to the Site, and information about how you interact with the Site. We refer to this automatically-collected information as "Device Information".

We collect Device Information using the following technologies:
- "Cookies" are data files that are placed on your device or computer and often include an anonymous unique identifier. For more information about cookies, and how to disable cookies, visit http://www.allaboutcookies.org.
- "Log files" track actions occurring on the Site, and collect data including your IP address, browser type, Internet service provider, referring/exit pages, and date/time stamps.
- "Web beacons", "tags", and "pixels" are electronic files used to record information about how you browse the Site.
- [[INSERT DESCRIPTIONS OF OTHER TYPES OF TRACKING TECHNOLOGIES USED]]

Additionally when you make a purchase or attempt to make a purchase through the Site, we collect certain information from you, including your name, billing address, shipping address, payment information (including credit card numbers [[INSERT ANY OTHER PAYMENT TYPES ACCEPTED]]), email address, and phone number. We refer to this information as "Order Information".

[[INSERT ANY OTHER INFORMATION YOU COLLECT: OFFLINE DATA, PURCHASED MARKETING DATA/LISTS]]

When we talk about "Personal Information" in this Privacy Policy, we are talking both about Device Information and Order Information.

HOW DO WE USE YOUR PERSONAL INFORMATION?
We use the Order Information that we collect generally to fulfill any orders placed through the Site (including processing your payment information, arranging for shipping, and providing you with invoices and/or order confirmations). Additionally, we use this Order Information to:
- Communicate with you;
- Screen our orders for potential risk or fraud; and
- When in line with the preferences you have shared with us, provide you with information or advertising relating to our products or services.
- [[INSERT OTHER USES OF ORDER INFORMATION]]

We use the Device Information that we collect to help us screen for potential risk and fraud (in particular, your IP address), and more generally to improve and optimize our Site (for example, by generating analytics about how our customers browse and interact with the Site, and to assess the success of our marketing and advertising campaigns).

[[INSERT OTHER USES OF DEVICE INFORMATION, INCLUDING: ADVERTISING/RETARGETING]]

SHARING YOUR PERSONAL INFORMATION
We share your Personal Information with third parties to help us use your Personal Information, as described above. For example, we use Shopify to power our online store--you can read more about how Shopify uses your Personal Information here: https://www.shopify.com/legal/privacy. We also use Google Analytics to help us understand how our customers use the Site -- you can read more about how Google uses your Personal Information here: https://www.google.com/intl/en/policies/privacy/. You can also opt-out of Google Analytics here: https://tools.google.com/dlpage/gaoptout.

Finally, we may also share your Personal Information to comply with applicable laws and regulations, to respond to a subpoena, search warrant or other lawful request for information we receive, or to otherwise protect our rights.

BEHAVIOURAL ADVERTISING
As described above, we use your Personal Information to provide you with targeted advertisements or marketing communications we believe may be of interest to you. For more information about how targeted advertising works, you can visit the Network Advertising Initiative's ("NAI") educational page at http://www.networkadvertising.org/understanding-online-advertising/how-does-it-work.

You can opt out of targeted advertising by using the links below:
- Facebook: https://www.facebook.com/settings/?tab=ads
- Google: https://www.google.com/settings/ads/anonymous
- Bing: https://advertise.bingads.microsoft.com/en-us/resources/policies/personalized-ads
- [[INCLUDE OPT-OUT LINKS FROM WHICHEVER SERVICES BEING USED]]

Additionally, you can opt out of some of these services by visiting the Digital Advertising Alliance's opt-out portal at: http://optout.aboutads.info/.

DO NOT TRACK
Please note that we do not alter our Site's data collection and use practices when we see a Do Not Track signal from your browser.

YOUR RIGHTS
If you are a European resident, you have the right to access personal information we hold about you and to ask that your personal information be corrected, updated, or deleted. If you would like to exercise this right, please contact us through the contact information below.

Additionally, if you are a European resident we note that we are processing your information in order to fulfill contracts we might have with you (for example if you make an order through the Site), or otherwise to pursue our legitimate business interests listed above. Additionally, please note that your information will be transferred outside of Europe, including to Canada and the United States.

DATA RETENTION
When you place an order through the Site, we will maintain your Order Information for our records unless and until you ask us to delete this information.

CHANGES
We may update this privacy policy from time to time in order to reflect, for example, changes to our practices or for other operational, legal or regulatory reasons.

[[INSERT IF AGE RESTRICTION IS REQUIRED]]
MINORS
The Site is not intended for individuals under the age of [[INSERT AGE]] .

CONTACT US
For more information about our privacy practices, if you have questions, or if you would like to make a complaint, please contact us by e‑mail at info@powerfuelbites.com or by mail using the details provided below:

powerfuelbites
[Re: Privacy Compliance Officer]
Powerfuel Bites LLC, 123 reid st, Lincolnton NC 28092, United States
The story of Jericka and Ryan Jordan starts out like the beginning of many great stories.  "We fell in love over food," said Jericka. 
Jericka and Ryan began their story in Florida.  Back in 2011, Jericka was a chef at Marriott when her path crossed Ryan's. "I'd cook for him, it was a big part of our relationship."  Jericka, a professionally trained chef who attended Johnson and Wales in Charlotte, North Carolina had previously worked at Disney World as a chef.  
Jericka and Ryan's love grew as they started a family with their firstborn, RJ, and worked together for a meal-prep service in Treasure Coast, Florida.  Their family-first philosophy is what led them to the in-home food services.  "Kitchen hours in a traditional restaurant didn't work with our family schedule.  I wanted to be a mom first. Personal cheffing is what worked for me," Jericka said.  
They learned the ropes and honed their skills, but the business they were working for in on Treasure Coast had to close.  Many of the former clients continued to reach out to Jericka because of their love for her homemade peanut butter balls.  They were a convenient and nutritious food they could have before or after workouts, but as she tested recipes and looked at the costs of storebought organic peanut butter, she began to experiment with making her own organic nut butter.  It was a success and her clients couldn't get enough.
One night as Ryan and Jericka talked, they knew that being entrepreneurs was something they both wanted.  The couple came up with the name, Powerfuel Bites based on the nutritious ingredients they used and the way their foods energized and healthily rejuvenated their customers without all the added sugar and artificial ingredients that most other processed protein bars and foods had.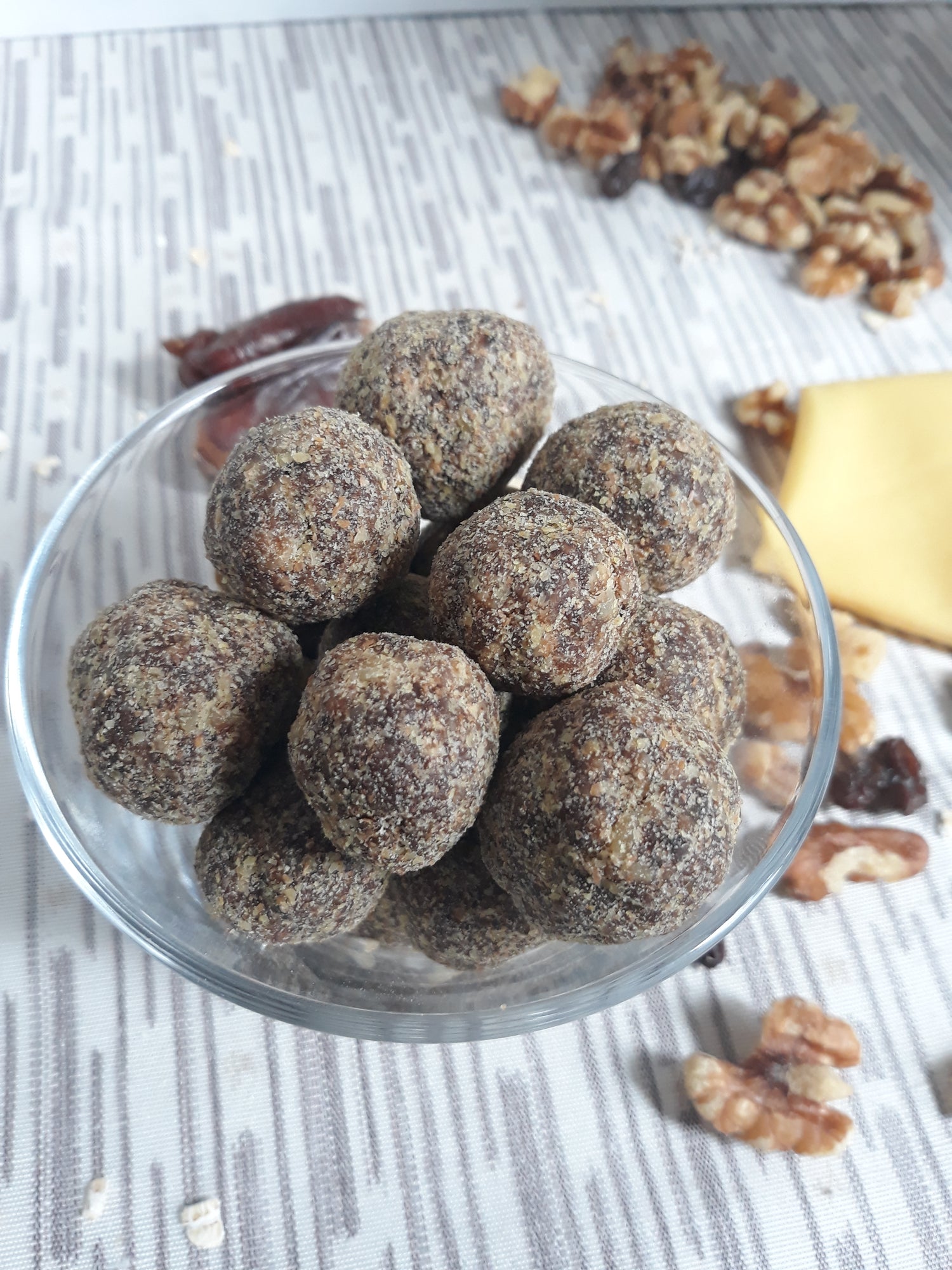 Powerfuel Bites circa 2017
They continued to come up with new recipes, testing them, researching, and formulating new combinations.  They came up with a simple and nutritious line of products, but they knew they wanted to be closer to family and live in a community where they could really be a part of a larger picture and make an impact, so they decided to leave Florida. 
In 2019, after moving back to North Carolina, where Jericka has family, they worked on packaging and labels and began to take their products to various farmers' markets. Their community-first and family-first values were their main focus as they volunteered and cooked for local rescue missions, sharing their time and talents, and met members of the community at the local farmers' markets, sharing their nutritious, homemade Powerfuel Bites with the community, but Covid slowed their progress a little in 2020 until they discovered the online market was a place for them to continue to share their message of family, good food, wellness, and sell their products. 
Now, Jericka and Ryan are the parents of three beautiful children and make their home in Lincolnton, North Carolina.  "It's about building something that outlasts us and makes a difference in the world.  During Covid, we realized that we are in business to be a catalyst for good and change the communities we serve in a positive way.  Our children get to be a part of that," said Jericka.  It's a family affair. The children are often in the kitchen and at the farmers' markets helping with the business. 
"Aside from building a legacy, I want to inspire people to start where they are and use what they have to make their dreams come true; because that's what we did. We were inspired along the way and I want to be that torch for someone, to show them that it's possible. 
I'm not in this to be a small business forever, I want to be a leader in our industry and be a big player; inspiring people all over the world," said Ryan Sr.  
"We want our children to have more.  RJ says that he wants to be a businessman.  I want them to remember being at the markets.  I want them to know that things don't have to be the way the world tells you.  You can do something different," said Jericka.  
"I feel really proud when I think about being an "entrepreneur-kid" not many kids are doing what I am. I enjoy working at the markets and selling our products. I'm excited to be starting my own part of Powerfuel Bites - PowKidz! My first 2 products are Apple Nachos and Kombucha - I want to grow my business and have my products all over the world," Ryan Jr. (RJ), age 10, commented.  
As the story of Powerfuel Bites continues, they have just started their first Little Free Library in memory of Jericka's grandfather as a way to share literacy and the love of books with their community.  They also dream of someday having their own peanut farm. They plan to use that space as a way to do agricultural outreach with the community to teach children about where their food comes from, while also utilizing the peanuts in their nut butters and other products.